Sounds like the title for a children's book. Maybe it should be.
It's 1979, and I'm having a wonderful childhood. I go to school, play with my friends, etc. In my mind, it's nothing out of the ordinary, except that I've been a Suzuki violin kid for five years, I practice every day, and I'm starting to get good at it.
Before I go any further, allow me to introduce my parents so this story makes more sense. My loving mother Phyllis is the backbone of the household, taking me to lessons and helping mepractice, while steadfastly supporting my talented dad. His name is Vern, and he is balancing a singing career while also being a professor, and head of the opera department at the University of Minnesota.

I realize now that my childhood was anything but ordinary.
My parents inform me that we are going to have company, and that it isn't family. They set the usual ground rules, and added a new one; I was not to use the phone while he was here, so that we could focus all of our attention on our guest. That was OK with me, because as a nine-year-old I didn't really use it that much.

I had no idea who our guest was, just that he was important.

At our South Minneapolis house, near the University, arrives Dmitri Kabalevsky. He is a kindly old man, very tall, softly speaking a language I have never heard before. Thankfully, he has a translator traveling with him! She is magnificent; beautiful and elegant, her English so perfect it sounds fake. She is always there to help, but never in the way. I don't remember anything she says in particular, except that I am welcome to call her Tatiana, and him Dmitri. It's a short visit, and he has a busy schedule. But we are able to share some meals together, after which I play my little heart out for him.
Our house and car are his lodging and transportation during his stay, so Dad chauffeurs him to his functions at the University. One magical time, I get to go along. We pile into the front seat of our maroon Chevy Malibu station wagon, Tatiana alone in the back. As I sit in the middle of the bench seat, Dmitri ever so gently cradles my hands, rubbing them like you would a newborn. I feel an overwhelming sense of calm. He turns his head to the side and speaks over my head to his translator. Tatiana explains he is saying I must take care of my hands, as they are my gift.
Fast forward to adulthood.
This part would not be in the children's book. This part is called "come to find out." When I was old enough to understand, my parents let me in on a few things about this incredible visit. The University invited Kabalevsky to be their guest as they put on a festival honoring him and his music. He asked to stay in a home rather than a hotel, and we got the nod. This meant a few things were put in place behind the scenes:
That old rotary phone I was told not to use had been tapped by the CIA. I hadn't even noticed the unmarked van parked next to our house. We were followed everywhere. That's what happens when a high-ranking KGB agent stays at your house during the Cold War. "Tatiana" as she called herself, was there to make sure Kabalevsky didn't defect. Our government was making sure she wasn't here to steal secrets from Minnesota companies who worked with the Department of Defense.
Hearing this for the first time was chilling. But after the initial shock, my memories warmed me back up: I was so grateful I saw the whole event through the innocent lens of a nine-year-old. None of the politics I was oblivious to would ever take away the unspoken emotional bond I shared with my new gentle friend, Dmitri.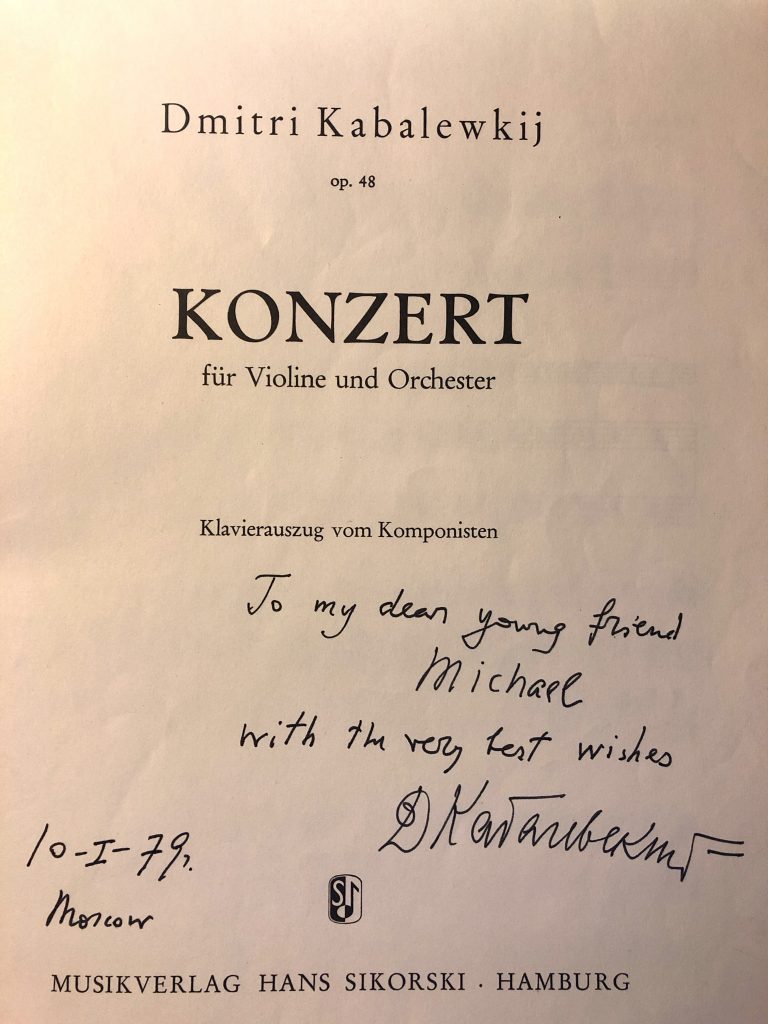 Come and hear Michael Sutton play Dmitri Kabalevsky's Violin Concerto on Sunday, February 16, 2020 at 3 p.m. Complete concert information is available here.