Before each concert, we share "Manny's Musings," thoughts from our Music Director and Conductor, Manny Laureano. This is the final "Musings" that will be posted in advance of the BSO's In the Spanish Style concert on October 11.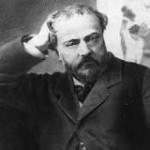 Alexis-Emanuel Chabrier was born in January of 1841 and died relatively young at age 53. He was, as we have seen now many times, one of those composers who went for a practical field of study only to turn toward art as his greatest form of expression. It's not surprising to note that he was, at first, a law student whose musical training was largely self-taught (ironically, the title of one of his operas was A Deficient Education). He was also a devotee of the then-new style of Impressionism in painting even though his music didn't particularly reflect that trend in composition. In fact, the opus we're playing at this concert was referred to by him as "a piece in F and nothing more."
As with many composers, it was a trip abroad that awakened his interest in the sounds, rhythms, and character of Spanish music. In 1882, he toured almost every region of Spain and the writings he left behind were an indication that he found the various musical styles irresistible. Conductor Charles Lamoureux was a champion of sorts of his music and was eager to embrace and perform Chabrier's recently orchestrated work, España. Although the work was conceived originally as a piano duet named Jota, it was well-received at its premiere owing to its rich orchestration and infectious melodic and rhythmic content.
Finally, tonight's concert will end with a Russian work that has become synonymous with Spanish musical styles. The Capriccio Espagnol of Nikolai Rimsky Korsakov has been thrilling audiences since its premiere in 1887 in St. Petersburg.
Though he showed aptitude for math and science as a lad he fell prey to the muses and succumbed to a lifetime in art. So much so, in fact, that after meeting other Russian composers of the day and excelling in his piano studies, he became a member of what became known as "The Five." The Five were Russian composers who made it their business to establish a clear identity for Russian music. Thus it was somewhat ironic that Rimsky-Korsakov would become so well known for his Spanish Caprice. Yet, perhaps not so much when we remember that he was the man who wrote a book on orchestration that would become a required text for study for many composers that followed after him.
The Capriccio was first thought of as a solo work for violin and orchestra but he thought better of it and spread the wealth of his composition among the various instruments in the orchestra. It is, for all intents and purposes, a five-movement concerto for orchestra!
It begins with a lively Alborada that celebrates our daily sunrise with full percussion complement and competitive solos by the clarinet and solo violin. The lovely Variazioni that follow are a smooth showcase for the horns and voluptuous strings, ending with a wandering flute that leads us to another Alborada but a half step higher and the sound of what is mostly a wind band. The penultimate movement, Scena e canto Gitano is a suite of opportunities for soloists and complete orchestra sections to, well, show off a bit at their own pace before we end with the Fandango Asturiano and its blindingly energetic whirling dance music. The pace is dizzying and intoxicating but this is Spain… eso es asi!
Join Music Director & Conductor Manny Laureano, for the concert, "In the Spanish Style" featuring BSO Concertmaster Michael Sutton, as soloist. The concert takes place on Sunday, October 11 at 3 p.m. at St. Michael's Lutheran Church in Bloomington.
To learn more about the concert, click here. You can order tickets online through the Bloomington Box Office or by calling 952-563-8575.