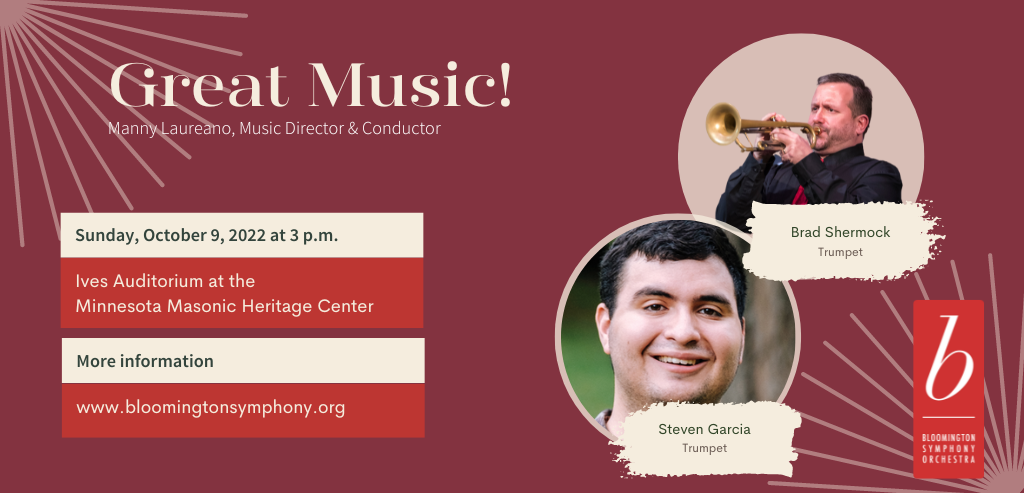 The Program
Manny Laureano, Music Director & Conductor
Bedrich Smetana – Overture to The Bartered Bride
Steven Paulus – Concerto for Two Trumpets and Orchestra
Brad Shermock and Steven Garcia, trumpets
Franz Schubert – Symphony No. 9 "The Great C Major"
Come along with the BSO as we initiate our 2022-23 season by paying tribute to four "Ninth" symphonies of various composers. In our first concert, a sprightly opera overture from the Bohemian tradition leads us to music for Two Trumpets and Orchestra by cherished Minnesota composer, Stephen Paulus. We'll wrap the program up with a work of heavenly lengths, "The Great" C Major Symphony of Franz Schubert.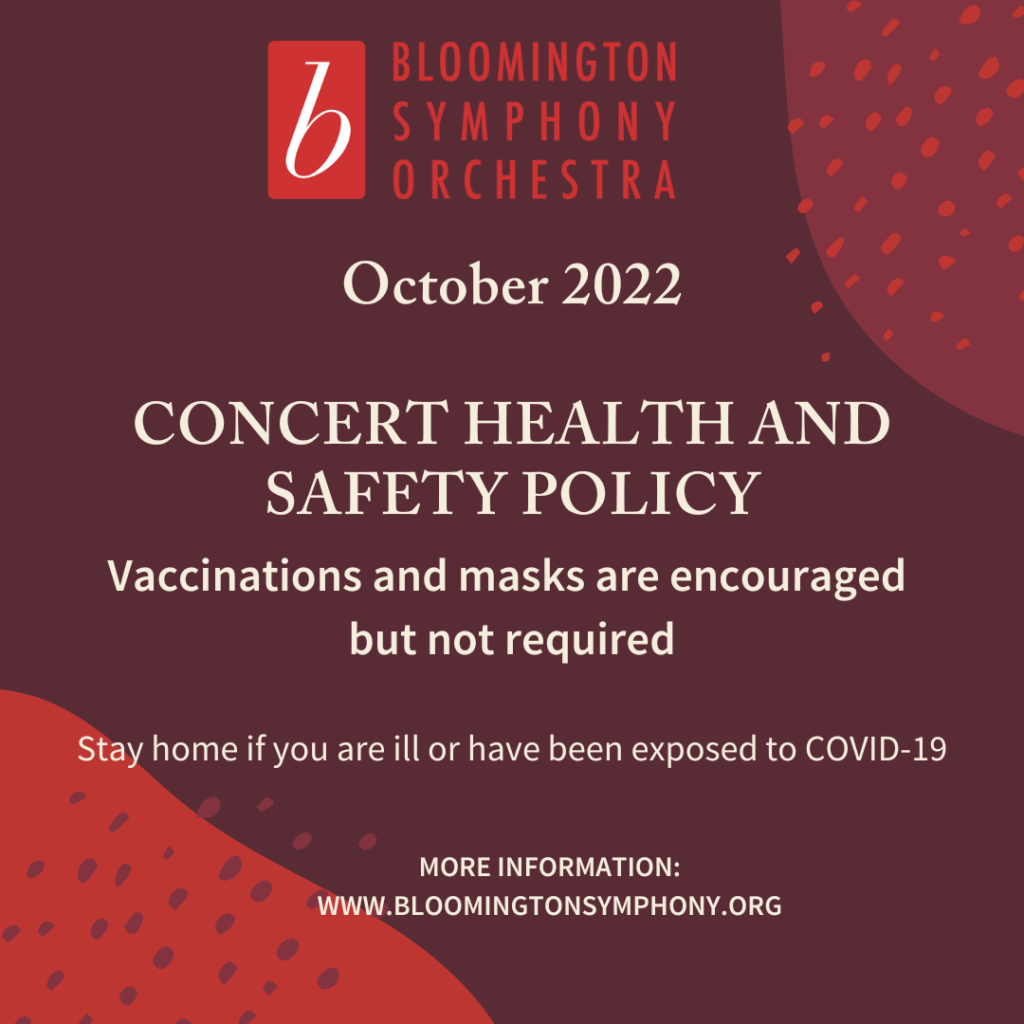 ---
Venue & Ticketing Info
Ives Auditorium at the Minnesota Masonic Heritage Center
11411 Masonic Home Drive, Bloomington
RESERVED TICKETS may be purchased at the door, subject to availability; advance purchase is recommended.
In Advance: $17 Adults; $14 Seniors (62+)
At the Door: $19 Adults; $16 Seniors (62+)
Thanks to generous donors, Students are Free with ID but seats must be reserved
Online: Order now!
Phone: 952-948-6506
In person: Minnesota Masonic Heritage Center – 11411 Masonic Home Drive, Bloomington
Meet the Featured Musicians
Playing trumpet since the age of 10, Brad Shermock has toured with Doc Severinsen as his lead trumpet player, performs as an extra/substitute for the Minnesota Orchestra, plays principal trumpet for the Bloomington Symphony, and freelances in the Minneapolis/ St. Paul area. He has a diverse background in music, performing with Prince, Franki Valli, Jimmy Dorsey, Glenn Miller, Woody Hermann, Jack Jones, Donny Osmond, Trisha Yearwood, Lynyrd Skynyrd, and many others.
Brad has appeared on many recording projects, most notably Minnesota Orchestra's recordings of Gustav Mahler's Symphony No. 2 and Symphony No. 8, Prince's "New Power Soul," Chaka Kahn's "Come To My House," Mint Condition's "Music @ The Speed Of Life," and Ricky Peterson's "Souvenir."
Brad has maintained an active private teaching studio since 1988. His students are frequently in local youth symphonies, jazz band programs, and All-State groups. Some of his best students have pursued careers in music, playing in Minneapolis, Denver, New York, Los Angeles, and Washington, D.C.
Brad received his Bachelor's degree from the University of North Texas, and his Master's from DePaul University.
Originally from Houston, TX, Steven Garcia graduated from St. Olaf College with a BM in Trumpet Performance and is Second Trumpet with the Bloomington Symphony and performs as a freelancer around the Twin Cities. He has been involved with various ensembles ranging from Orchestral, Jazz, Wind Ensemble, chamber music, and New Music ensembles, among others.
He was previously Principal Trumpet of the St. Olaf Orchestra, Lead Trumpet of the St. Olaf Jazz 2 Band, and Lead Trumpet of the Cavolo Brass Quintet, and was also a Member of the St. Olaf Band. He has performed in spaces such as Carnegie Hall, Orchestra Hall (Minneapolis), Jones Hall (Houston), the Oslo Opera House, Grieghallen(Bergen), the Stavanger Konserthus, and the Nidarosdomen in Trondheim. Steven has also performed with the La Crosse Symphony and the Rochester Symphony.
Concert Sponsors
This concert is sponsored by Dr. Leonard & Karen Nordstrom