This month's Musician's Musings might better be called "Manager's Musings," since it was written by our General Manager, Sara Tan. We hope you enjoy the chance to learn more about a person who helps the BSO to do what we do – make great music!
The Long and Winding Path
by Sara Kleinsasser Tan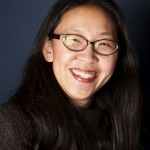 I remember the moment when I had the revelation: I was sitting in a Music History exam at Concordia College in Moorhead, Minnesota. I suddenly and somewhat inexplicably thought, "I want to be the Education Director a major orchestra." Until that point I had only considered being a middle school or high school band director. The entire trajectory of my life had been pointing in the direction of Music Education and teaching band in a public school, so to have such a sudden change of heart was surprising.
Two years later, while chaperoning a middle school orchestra trip, I met Gary Alan Wood, the Education Director at the Minnesota Orchestra. He and I chatted for awhile and I boldly told him, "I want your job." A decade later, I started working with the Bloomington Symphony Orchestra, one of the Twin Cities' finest community orchestras. While not in the education department, nor at a "major" orchestra, being the General Manager of the BSO been a wonderful fit for my passion to support the arts in my community. It also allows me to work while caring for my two children, ages five and three.
The positions that led me here helped prepare me for this very job. I taught beginning and middle school band in southern Minnesota for a year, then returned to my alma mater, Concordia, where I led domestic and international concert tours for the band and orchestra. After that, I spent a year working as the Artistic Coordinator for the Detroit Symphony Orchestra, then moved to Cleveland, Ohio where I worked in the Education Department at the second-largest performing arts center in America, Playhouse Square. My husband attended the University of Michigan's Ross School of Business and while there, I worked with the leadership programs for MBA and BBA students.
During my brief tenure as a public school teacher, I gained a deep empathy for what music educators do. I'm especially grateful for the wonderful musicians and teachers who the BSO partners with every year for the Bloomington Orchestra Festival.
While in Detroit, I worked with dozens of classical, jazz and pops guest artists and conductors, including the Beaux Arts Trio, Dawn Upshaw, Oscar Peterson, Jean-Yves Thibaudet, Mark Wigglesworth, Itzhak Perlman, k.d. lang, and John Lithgow. I spent hours with these artists, driving them to the concert hall, learning more about their artistic and personal lives. I learned the importance of contracts and navigated the complicated process of obtaining artist visas.
My experience at Playhouse Square was much more rooted in theater, but I learned a great deal about working with a team of passionate individuals, true community outreach and the beauty of work that is being created for young audiences all over the world. At the Ross School of Business, I led a team and had a chance to flex my creative muscle while developing new and innovative programs for the world's top MBA students.
After relocating to the Twin Cities in 2009, I took some time off to start my family, but a chance encounter with a BSO musician led me to take on the challenge of managing the BSO. In my day-to-day work I make sure the bills get paid, make sure the librarian has music to distribute, correspond with musicians and community members, and make sure venues are secured. I work closely with the Board of Directors to help accomplish their goals and am in close communication with the Music Director to assure he has what he needs to accomplish his musical goals.
This position allows me to exercise my mind – and on concert days, my feet! – and do work that doesn't always feel like work. I feel fortunate to be in a position where I can do work that is important, while learning and growing myself and supporting such a great community asset. I hope you will join me in supporting the BSO in some way – Maybe you'll audition to play, join the board, make a donation or attend a concert. No matter what you do, your time and effort is valuable to the BSO.