By Sara Kleinsasser Tan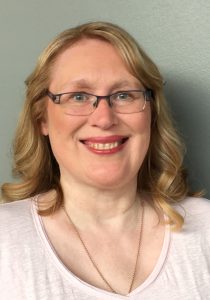 My first encounter with Kristin was in late August 2014, via a message from the BSO's website contact form. Her message simply read: "Being on permanent disability from MN Orch and suddenly being relegated to the audience is seriously not agreeing with me. Would you have a spare chair for me here? I miss it too much."
A short time later, Kristin joined the BSO as a first violinist, where she served as assistant concertmaster, filled in as concertmaster from time to time, led sectionals for the second violin section, and served on the Board of Directors.
If you attended a concert between October 2014 and November 2017, you likely saw a very tall (over six feet!) first violinist who would sit on an unusually tall chair on the outside of the section. She didn't always stand when the rest of the orchestra rose, and she'd often stay in her chair during the intermission.
In addition to the aforementioned disability, Kristin lived with Parkinsons disease. She was forced to step away from her professional playing with the Minnesota Orchestra, but with the right combination and timing of pain medication, Kristin was able to prepare for and participate in the BSO's weekly rehearsal. She would embark on the long drive from her home in White Bear Lake, to rehearsals in Bloomington, often arriving early to give her time to move in her heavy chair, and warm up her muscles enough to be able to play.
During her time on the board, Kristin provided me with so much insight that could only come with her extensive musical experience. One example that stands out is the unique perspective she offered on repertoire. One year, Manny had his eye on a certain piece for an upcoming season concert. Kristin knew the piece from her days at the Minnesota Orchestra, and warned against programming it, noting its difficulty for the professional musicians of the MN Orchestra. She was able to suggest alternate ideas that would lead the ensemble to musical success and musicians' personal satisfaction.
I leaned heavily on Kristin's editing skills for program notes and grant applications. She vigorously used the Microsoft Word editing feature, enthusiastically placing every comma, correcting many a grammatical error, strictly adhering to her inner style guide, always making sure the BSO was representing itself to the highest standard.
Over the years, Kristin started experiencing more and more pain. Following the November 2017 concert, she stepped away from playing and unfortunately never returned. We have missed Kristin's playing and presence, but have always been planning on her return to playing and board service. We were heartbroken when we received the news that Kristin died of pneumonia on January 24, 2020, at the too young age of 52.
We humbly offer this tribute, along with the rose on the empty chair, as a memorial to a musician who has left her indelible mark on our organization. We are grateful for her time and service to our musicians and board.
We encourage you to read Kristin's "Musicians Musings" posted on our website where you can read more of her story in her own words.