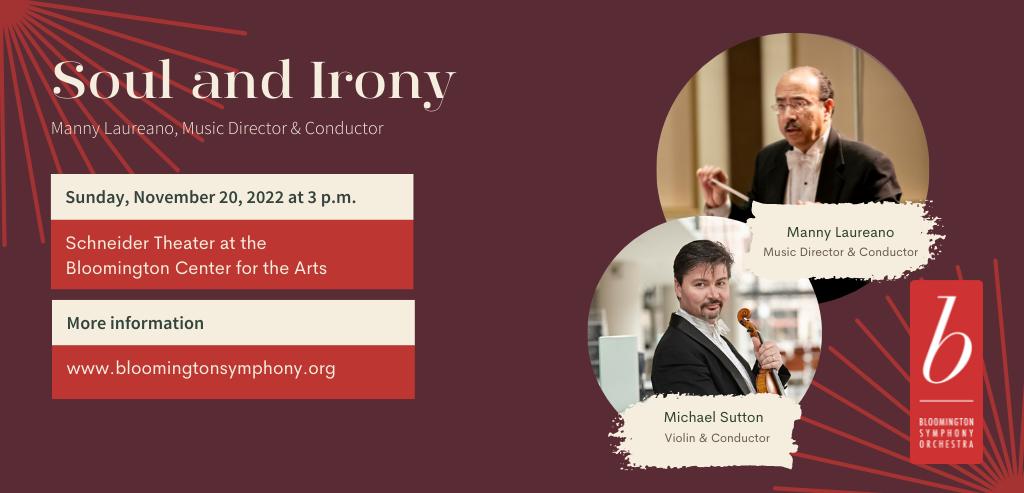 The Program
Manny Laureano, Music Director & Conductor
Margaret Bonds – Montgomery Variations
Franz Schubert – Rondo in A for Violin, D 438
Michael Sutton, violin and conductor
Dmitri Shostakovich – Symphony No. 9 in E-flat major, Op. 70
The BSO is pleased to present the Minnesota premiere performance of Margaret Bonds' Montgomery Variations, a beautiful and powerful piece. Our own Michael Sutton will rise from his seat as concertmaster to lead the BSO strings in a violin solo by Franz Schubert. A full-length musical joke in the form of Shostakovich's Ninth Symphony will round out the program, guaranteed to leave you smiling at his many musical winks and nods!
---
Venue & Ticketing Info
Schneider Theater at the Bloomington Center for the Arts
1800 West Old Shakopee Road, Bloomington
RESERVED TICKETS may be purchased at the door, subject to availability; advance purchase is recommended. Note: Ticket prices are $14-$19 with nominal fees depending on the venue. Use the links to official ticket vendors provided on this page to avoid being taken advantage of by third-party vendors.
In Advance: $17 Adults; $14 Seniors (62+)
At the Door: $19 Adults; $16 Seniors (62+)
Thanks to generous donors, Students are Free with ID but seats must be reserved
Buy tickets for Bloomington Symphony Orchestra: Soul and Irony
Featured Musician
Michael Sutton was appointed Concertmaster of the Bloomington Symphony Orchestra in May 2014.
Sutton has been a proud member of the Minnesota Orchestra since 1997. Sutton grew up in Minneapolis, studying at MacPhail Center for Music. He left for Manhattan School of Music where he earned two degrees.
Next, Michael went to Miami Beach to join the New World Symphony. After living abroad for two summers each in Japan and Europe playing in music festivals–and getting New York and paradise out of his system, it was great to come full circle…back to the Twin Cities.
Sutton is a regular coach for the Greater Twin Cities Youth Symphonies, and teaches part-time at MacPhail Center for Music. Michael is married to the ever-vivacious Beatrice Blanc, a Suzuki teacher, also at MacPhail.
Concert Sponsors
This concert is sponsored by Allan & Deborah Schneider