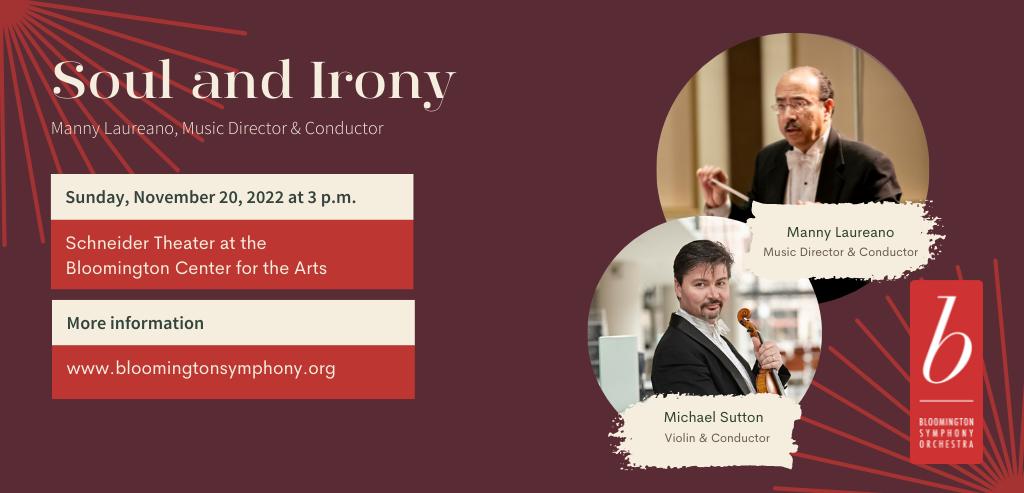 The Program
Manny Laureano, Music Director & Conductor
Margaret Bonds – Montgomery Variations
Franz Schubert – Rondo in A for Violin, D 438
Michael Sutton, violin and conductor
Dmitri Shostakovich – Symphony No. 9 in E-flat major, Op. 70
The BSO is pleased to present the Minnesota premiere performance of Margaret Bonds' Montgomery Variations, a beautiful and powerful piece. Our own Michael Sutton will rise from his seat as concertmaster to lead the BSO strings in a violin solo by Franz Schubert. A full-length musical joke in the form of Shostakovich's Ninth Symphony will round out the program, guaranteed to leave you smiling at his many musical winks and nods!
---
Venue & Ticketing Info
Schneider Theater at the Bloomington Center for the Arts
1800 West Old Shakopee Road, Bloomington
RESERVED TICKETS may be purchased at the door, subject to availability; advance purchase is recommended.
In Advance: $17 Adults; $14 Seniors (62+)
At the Door: $19 Adults; $16 Seniors (62+)
Thanks to generous donors, Students are Free with ID but seats must be reserved
Online: Order now!
Phone: 952-563-8575
In person: Bloomington Box Office – 1800 West Old Shakopee Road, Bloomington
Concert Sponsors
This concert is sponsored by Allan & Deborah Schneider