Before each concert, we share "Manny's Musings," thoughts from our Music Director and Conductor, Manny Laureano. This is the final entry of the "Musings" for the "New Works and Old Friends" concert that will be performed on Sunday, October 6, 2019.
It's hard to say exactly what it is about Sibelius' music that has made it such a favorite of Minnesotans. Learning that Sibelius will be played somewhere is cause for bundling up the family and driving a reasonable number of miles of frigid winter darkness to hear it, whether by a local professional ensemble or a community group like your BSO. It may be that we identify with the kind of weather Sibelius knew or the heartiness required to live through a harsh winter. Finns and Minnesotans seem to relish the suffering, whether from sowing the seeds of freedom for a nation or living through just one more season of Vikings Football. In either case, hope springs eternal.
By the time Sibelius set about writing his wonderful Second Symphony, to be premiered just a month away from the promise of spring, he had attained a form of heroic status among musicians and the Finnish public. He also found a place for himself as a conductor of his own music, leading no less than the Helsinki Philharmonic for that premiere. The boy who would be a great violinist found himself in the position of being a voice for his people instead. It seemed the Finns were not in as much need for a star violinist as they were a voice the world would be able to recognize for his superb craft in melody, harmony, and construction.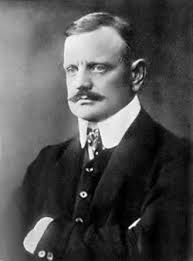 The dedication to Baron Axel Carpelan, a noted hypochondriac who was unlucky at love and once smashed his own violin in a fit of frustration seems unlikely, but Carpelan had the gift to be a source of inspiration for Sibelius. In fact, he was the fellow who egged on Sibelius to write a the celebrated Finlandia. He continued to badger Sibelius to travel and take in the world so that he could continue to feed his talent. Carpelan was proved right as Sibelius did absorb the ideas that come through exposure to new situations. It was not easy since the recent death of daughter Kirsti Sibelius left an indelible mark on her grieving father. Music was what saw Jean through, nevertheless.
This symphony offers itself as an interesting contrast from the gloomy First Symphony in E minor. This D Major jaunt is sunny from the outset. You can literally feel the sun on your face from the opening bars. That's not to say that the symphony doesn't offer moments of introspection and self doubt. It is a deep symphony that speaks poetically. The "walking bass line" of the second movement is just one of the moments of what seems to be a look into the soul of someone whose brain is so busy as to be housing multiple personalities. Sibelius continues his habit of ending movements of his symphonies almost abruptly, without the usual grand ritardando and long held note. He seems to be eager to get on with it.
So he does with his third movement scherzo which is constructed almost exactly like a Beethoven scherzo. Its busyness pauses momentarily for what can only be described as a song for various woodwind soloists with a pastoral quality that makes the interrupting brass that return us back to the scherzo seem like a practical joke, again, much like Beethoven would have done.
The seamless transition to the finale… well, after so many suppositions as to what Sibelius "meant" by this heroic, bold music with its undeniable fervor, it must be left up to the listener to decide whether this is a bit of nationalist pride or an unabashed celebration of D Major merely for its own sake. He negotiates the waters of modulation from major to minor and back again in as expert a manner as one could imagine like characters in an opera. Sibelius pulls out all the stops and, as he does so beautifully in his earlier Finlandia, he makes you wish you were a Finn by the time the last chords ring like a peal of bells.
Join Music Director & Conductor Manny Laureano, for the concert, "New Works and Old Friends" featuring Eastman School of Music Viola Professor George Taylor as soloist. The concert takes place on Sunday, October 6, 2019, at 3 p.m., at the Gideon S. Ives Auditorium at the Masonic Heritage Center (11411 Masonic Home Drive, Bloomington)
To learn more about the concert, click here. You can order tickets online through the Masonic Heritage Center Box Office, or by calling 952-948-6506.