Before each concert, we share "Manny's Musings," thoughts from our Music Director and Conductor, Manny Laureano. This is the first of three "Musings" for the "Music in 3D: Part Three" concert that will be performed on April 17, 2016.
Symphony #3 in C minor, Op. 78 "The Organ" by Camille Saint-Saëns (1835-1921)
"I have given everything to it I was able to give. What I have here accomplished, I will never achieve again." – Camille Saint-Saëns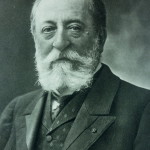 While those words are mildly prophetic, one has to smile when his concerti, opera, and various other works are considered. Nonetheless, the scope of this piece with its requisite organ soloist and four-handed piano duo in the second part are noted is all at once as delicate as a fleur de lis and as imposing as the Eiffel Tower. While the piece is not religious in intent, there is a self-conscious humility that pervades the opening and its subsequent offbeat staccatos that give way to a truly "French" second theme of joy.
The sincere beauty and simplicity of the slow section makes for a lovely duet between organ and orchestra. The Second part continues with a scherzo that is reminiscent of the Spanish Fandango challenging the woodwinds and strings to virtuosic exchanges as we settle into a fugato that previews thematic material from the Finale. This finale is blazing as it reintroduces the organ with all its majesty in conversation with the orchestra's brass until the end. If the theme seems familiar to you, you may recall that this music from this Finale figured prominently in the 1995 film, Babe.
Join Music Director & Conductor Manny Laureano, for the concert, "Music in 3D: Part Three" featuring violinist Louisa Woodfull-Harris and Jane Horn, Organ. The concert takes place on Sunday, April 17 at 3 p.m. at the St. Michael's Lutheran Church in Bloomington.
To learn more about the concert, click here. You can order tickets online through the Bloomington Box Office or by calling 952-563-8575.