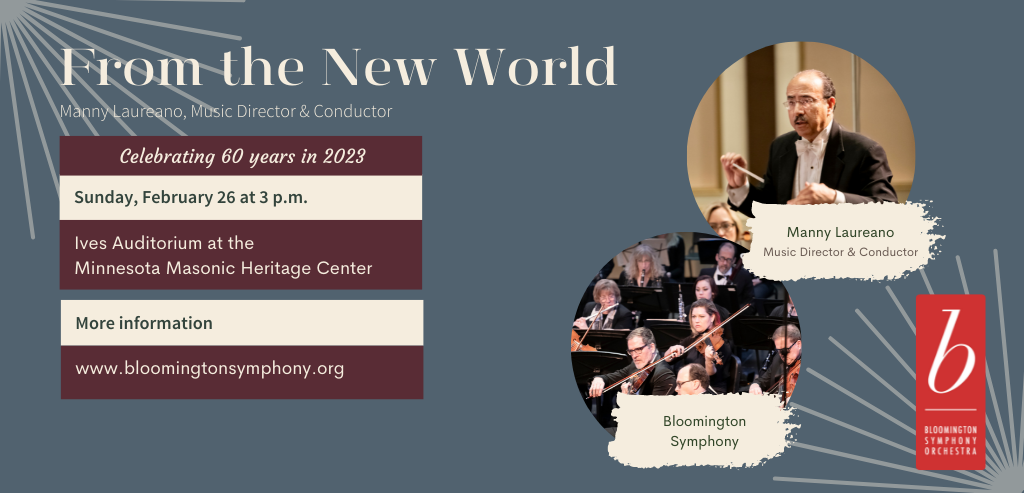 The Program
Manny Laureano, Music Director & Conductor
Shelley Hanson – Groove
TBA
Grand Prize Winner of MNSOTA's Mary West Solo Competition
Antonín Dvoràk – Symphony No. 9 in E minor "From the New World"
In this concert, Minnesota composer Shelley Hanson paints a sonic portrait of a walk through time and space, with her piece dedicated to the people of New York City, Groove. After we hear the winner of this year's MNSOTA Mary West Solo Competition, we'll experience America through the eyes of Antonín Dvoràk, who was so impressed with the sights and sounds that touched him in his travels across our land through his Ninth Symphony, From the New World.
---
Venue & Ticketing Info
Ives Auditorium at the Minnesota Masonic Heritage Center
11411 Masonic Home Drive, Bloomington
RESERVED TICKETS may be purchased at the door, subject to availability; advance purchase is recommended.
In Advance: $17 Adults; $14 Seniors (62+)
At the Door: $19 Adults; $16 Seniors (62+)
Thanks to generous donors, Students are Free with ID but seats must be reserved
Online: Order now!
Phone: 952-948-6506
In person: Minnesota Masonic Heritage Center – 11411 Masonic Home Drive, Bloomington
Concert Sponsors
This concert is sponsored by Allan & Deborah Schneider