The Bloomington Symphony Orchestra, under the baton of Artistic Director Manny Laureano, will perform at the annual Bloomington Orchestra Festival on Monday, March 17 at 7 p.m. at Thomas Jefferson High School. The BSO will open the program with Richard Wagner's Overture to Rienzi, followed by a side-by-side performance of the exciting final movement from Beethoven's Fifth Symphony with Bloomington high school string players.
The student musicians prepare for this performance by rehearsing in their classroom and then attending a rehearsal with the BSO musicians. Each stand features a student player and adult player and they are able to interact and learn from each other through the rehearsal and performance process.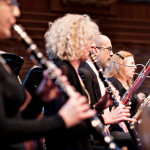 The public is invited to attend this performance which will also feature string players from area elementary, middle and high schools, coming together to celebrate a continuum of music – from those just beginning their instrumental journeys, to those who continue to play into retirement. We hope to see you in the audience on March 17!