---
Before each concert, we share "Manny's Musings," thoughts from our Music Director and Conductor, Manny Laureano. This is the first edition of the "Musings" for the "From Boisterous to Pastoral" concert that will be performed on Sunday, February 24, 2019.
Roman Carnival Overture
by Hector Berlioz
For a man who complained as much as he did about Rome, French composer Hector Berlioz (1803-1869) kept that dislike a secret, if we are to judge by the quality of his output on Italian themes while he worked and finished his studies during the 1830s. In addition to his work for solo viola and orchestra, Harold in Italy, he completed a large, two-act opera called Benvenuto Cellini.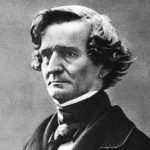 One never knows exactly why audiences take to a work or greet it with raised eyebrows. In any case, the opera had only mild reaction but the overture was greeted with a bit more enthusiasm. Still, the entire work never really caught on during his lifetime. He did revisit it, though and even Franz Liszt took interest enough to revive it in Weimar. It was during that time that Berlioz thought it wise to draw a variety of themes from the opera and fashion an overture of a programmatic sort. That overture, Roman Carnival, is a robust medley of brash opening fireworks, a hopeful ballad from the English Horn that wafts infectiously from section to section, and a lively saltarello that builds, ebbs, and builds again into the boisterous finale this concert promises to deliver.

Buckle up.
Join Music Director & Conductor Manny Laureano, for the concert, "From Boisterous to Pastoral" featuring Catherine Carson, winner of the Mary West Solo Competition as soloist for Camille Saint-Saëns' Violin Concerto No. 3. The concert takes place on Sunday, February 24, 2019, at 3 p.m., at the Gideon S. Ives Auditorium at the Masonic Heritage Center (11411 Masonic Home Drive, Bloomington)
To learn more about the concert, click here. You can order tickets online through the Masonic Heritage Center Box Office, or by calling 952-948-6506.