This is the first entry in a series that will be posted prior to each concert. This "Concert Preview" will provide background information on the pieces the BSO will perform next. Each Concert Preview is written by the BSO's Artistic Director and Conductor, Manny Laureano. Look for the next Concert Preview on Friday, November 15.
Alexander Borodin: music hobbyist?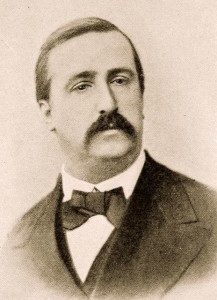 Who could have imagined that Alexander Borodin, composer of exquisite melodies, would have had as his first love chemistry? But so it was for this illegitimate son of one Prince Gedivanishvilli, born in St. Petersburg in 1833 to Evdokia Antonova. His name came from a one of the prince's serfs, Porfiry Borodin. This did not, however, deny him the opportunity to grow up in a privileged setting. He grew up listening to music and, in particular, enjoyed listening to bands. His talent revealed itself when he would return home after a concert and plunk out many of the melodies he had just heard on the piano which had been provided for him. He later took up the study of the piano as well as flute and 'cello.
Boys will be boys and the young Alexander Borodin enjoyed fireworks. This interest led to a fascination with chemistry for the sole purpose (at that time) of making his own fireworks. One thing led to another and the 17 year-old Borodin found himself studying medicine. However, music was always present in his life, much to the consternation of one of his mentors who said, "Mr. Borodin, busy yourself a little less with songs! I'm putting all my hopes into you as my successor but all you think of is music! You can't hunt two hares at the same time!"
It was upon graduating that he met a newly commissioned officer named Modeste Mussorgsky at a military hospital to which he had been assigned. He did continue his work in medicine and returned to his first love, chemistry. Music remained a significant pastime for him, however. In fact, his interest in music was impassioned by his meeting and falling in love with a pianist named Yekatorina Protopova who made it her business to civilize Alexander by exposing him to the music of Chopin and Schumann. She also took him to his first opera (by Richard Wagner) and he was, by all reports, entranced by the art form.
In time, he met the other important Russian composers of the day such as Cui, Balakirev, and Nikolai Rimsky-Korsakov, all of whom mentored and partnered with him at some point in his musical life. They saw him through his successes and failures as critics panned his first symphony in Eb Major even though the assembled public loved it! Even Franz Liszt said, encouragingly, "You are lucid, intelligent, and perfectly original. Work in your own way and pay attention to no one!"
After a lifetime of works in medicine, chemistry, and music Alexander died in 1887 of complications arising from cholera and heart problems.