Before each concert, we share "Manny's Musings," thoughts from our Music Director and Conductor, Manny Laureano. This is the first of three "Musings" that will be posted in advance of the BSO's concert on October 11.
In the Spanish Style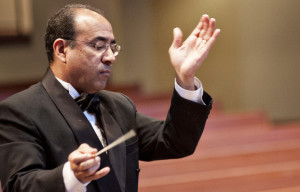 When I set about the task of creating a program to begin the BSO 2015-16 season, I thought it necessary to define in musical terms what characterizes Spanish music of the 19th and 20th centuries. This is important because this concert is not only about Spanish music, but about composers who tried their hand at writing in that style. Several things surprised me. One was that the only piece we're playing that was written by a Spanish composer, was written after three of the non-Spanish composers' works. The other thing which was most interesting was that three of the works on this program were written four years apart from each other with two of them being published in the same year, 1887! Clearly, this style of music was compelling enough to draw the attention of both Russian and French composers.
The music of Spain is complex because there were so many regions that had their own forms of musical expression. The music of Andalusia is essentially that which we have come to know as Flamenco, characterized by its sharp rhythms and use of castanets. Aragon is where the jota (hoh-tah) likely developed with its addition of guitars and tambourines to the castanets. Add to this the regions of Asturias, Galicia, the Basque Country, and Seville and you can understand that such richness would appeal to composers with keen ears. But what is most important to recognize is that virtually all of these types of Spanish music lent themselves to or were born in the spirit of the dance.
What this concert will explore is not only the music of Spain but also Cuba via France and Minnesota! Let's not get ahead of ourselves, though. Let's start with Spanish music of the 20th century and Manuel de Falla…
The next Manny's Musings will be posted on Monday, October 5. Check back for more about "In the Spanish Style!"
Join Music Director & Conductor Manny Laureano, for the concert, "In the Spanish Style" featuring BSO Concertmaster Michael Sutton, as soloist. The concert takes place on Sunday, October 11 at 3 p.m. at St. Michael's Lutheran Church in Bloomington.
To learn more about the concert, click here. You can order tickets online through the Bloomington Box Office or by calling 952-563-8575.