November 19, 2017 :: Beethoven's 5th… Bloomington Style!
Darin Tysdal, Piano
Darin Tysdal has been a vital force in the music community of the Twin Cities area for more than 20 years. He has been active as a pianist, composer and conductor. He has a Bachelor's and Master's degree in Music Composition from Moorhead State University and Northwestern University. Darin continued piano study at MacPhail Center for Music with Gary Sipes and Judy Lin. After twice winning the MacPhail Concerto Competition (Franck Symphonic Variations with Manny Laureano conducting, and Gershwin Concerto in F with Cary John Franklin conducting), he has been assistant choral director at Christ The King Lutheran Church in Bloomington as long as he can remember.
As a member of the Metropolitan Symphony for 20 years, he has won their concerto competition three times (Ravel Concerto for the Left Hand, Dohnanyi Variations on a Nursery Tune, and Rachmaninov Piano Concerto No. 4). Other soloist opportunities have been with the Kenwood Symphony (Rimsky-Korsakov Piano Concerto), Dakota Valley Symphony (Gershwin Rhapsody in Blue, Gottschalk Grand Tarantelle ,and Addinsell Warsaw Concerto), as well as the Grand Symphonic Winds, the Minnesota Freedom Band, plus an appearance with the Heart of Texas Concert Band conducted by Mark Rogers in the world premiere of the Festival Concerto by Rudolph Schmidt which is on YouTube.
He has participated in many amateur piano competitions in the USA, including the cities of New York, Chicago and Boston. He has twice competed in the Van Cliburn Amateur Piano Competition, winning a spot in the semi-finals and an award for Most Original Programming.
One of Darin's passions is the advocacy and performance of little-known as well as forgotten music from the past as well as the present. Another interest of his is film music, of which he is a aficionado. He has lobbied for John Waxman (son of Franz Waxman) to have an arrangement done of Franz Waxman's The Ride of the Cossack from Taras Bulba as a virtuoso piano transcription, for his use. Darin has also been written a lengthy solo for piano in the third movement of the new symphony by Polina Nazanskaya which was premiered by the Metropolitan Symphony in 2017. In his spare time, Darin works for Groth Music in Bloomington, and lives not too far away from the store, with his wife Lynda, a writer, and their cats Sunny and Sherry.
February 25, 2017 :: Stories and Enigmas
Michael Sutton, Violin
Michael Sutton was appointed Concertmaster of the Bloomington Symphony Orchestra in May 2014. His first performance with the Bloomington Symphony was at Bloomington's SummerFete concert that year.
Sutton has been a proud member of the Minnesota Orchestra for 19 years. Sutton grew up in Minneapolis, studying at MacPhail Center for Music. He left for Manhattan School of Music where he earned two degrees.
Next, Michael went to Miami Beach to join the New World Symphony. After living abroad for two summers each in Japan and Europe playing in music festivals–and getting New York and paradise out of his system, it was great to come full circle…back to the Twin Cities.
Sutton has been active with causes he believes in; he served on the board of directors of the Greater Twin Cities Youth Symphonies, and the Hamm Clinic for Mental Health in St. Paul. Michael is married to the ever-vivacious Beatrice Blanc, a Suzuki teacher at the MacPhail Center for Music.
Gary Briggle, Narrator
GARY BRIGGLE is a nationally renowned singer-actor, stage director and teacher, with over 40 years of experience in the full range of musical and theatrical genres. He graduated from St. Olaf College in 1975 and began his professional career with The Minnesota Opera Company, with whom he sang comprimario roles for over a decade. Simultaneously, he was a member of the adult acting company at The Children's Theater Company and School. In 1982, Gary embarked on the peripatetic life of the freelance artist, working from coast to coast with regional companies in plays, musicals, opera, operetta and oratorio, as well as gaining experience as a stage director.
For 25 years he was an artistic associate with Seaside Music Theater in Florida, and for 15 years he sang principal roles with Lyric Opera Cleveland, most notably the Britten chamber operas and the premiere of Libby Larsen's MRS DALLOWAY, and where he eventually served as Artistic Director. Gary starred in several Gilbert and Sullivan operas at The Skylight Opera Theater in Milwaukee, including his acclaimed Koko in THE MIKADO, which aired on PBS-TV.
Favorite roles include Mac the Knife and J.J. Peachum in the Brecht/Weill THREEPENNY OPERA, The Beadle in SWEENEY TODD, The Baker and Narrator/Mysterious Man in INTO THE WOODS, Buddy Plummer in FOLLIES, The Witch in Humperdinck's HANSEL AND GRETEL, Monostatos in THE MAGIC FLUTE, Goro in MADAMA BUTTERFLY, both Mozart and Salieri in AMADEUS, The Fool in KING LEAR, Bottom and Quince/Egeus in A MIDSUMMER NIGHT'S DREAM, and most recently in the premiere of Nautilus Music-Theater's TWISTED APPLES: Stories from WINESBURG OHIO by Robert Elhai and Robert Payne. Gary has worked with The Arizona Theatre Company, Sacramento Opera, Kansas City Rep, Florida Rep, Great Lakes Theater Festival, Anchorage Opera, Opera Carolina, Nevada Opera, Virginia Opera, The Artist Series of Sarasota, and locally with The Ordway Theater (directing THE SOUND OF MUSIC, performing THE PIRATES OF PENZANCE, A CHRISTMAS STORY, DAMN YANKEES, WHITE CHRISTMAS, YANKEE DOODLE, CINDERELLA, and several in The BROADWAY SONGBOOK series),  La Theatre de la Jeune Lune/Berkeley Rep (DON JUAN GIOVANNI), History Theater (GLENSHEEN, BABY CASE),  Park Square Theater (KING LEAR), Frank Theater (THE CRADLE WILL ROCK), The Jungle Theater (URINETOWN, HAMLET, DIAL M FOR MURDER), Skylark Opera (CANDIDE, etc), The Theatrical Music Company (Elvis Costello's JULIET LETTERS),  Minnesota Pops Orchestra,  Minnesota Dance Theater (THE NUTCRACKER), Vocal Essence ( Libby Larsen's BARNUM'S BIRD, The Gershwin's OF THEE I SING) and The Minnesota Orchestra (ENIGMA VARIATIONS, CAROUSEL), among others. He is the recipient of a Carbonell Award for Excellence and was honored to direct Sondheim's A LITTLE NIGHT MUSIC at the Nationaltheater of Hungary in Miskolc.
Gary annually directs for the Dayton Opera (Ohio), where he has staged such varied productions as Jake Hegge's DEAD MAN WALKING, Peter Brook's CARMEN, PORGY AND BESS, PAGLIACCI, the premiere of Stella Sung's THE BOOK COLLECTOR on a double-bill with CARMINA BURANA, and most recently Menotti's THE CONSUL. He has taught at The University of Iowa, St. Olaf College, Boston University's Opera Institute, Valparaiso University, Baldwin-Wallace Conservatory, The University of Ohio/Miami, The Colleges of St. Catherine and St. Thomas, Macalaster College, Concordia College (St. Paul), The University of Minnesota, NDSU, and served as Co-Chairman of the Music-Theater Department of The St. Paul Conservatory for Performing Artists, founded by his wife, actress Wendy Lehr.
Upcoming engagements include Bernstein's CANDIDE at Artistry and the premiere of LORD GORDON GORDON at The History Theater.
Music in 3D: #5
Katia Tesarczyk, Violin
Winner of Minnesota String & Orchestra Teachers' Association Mary West Solo Competition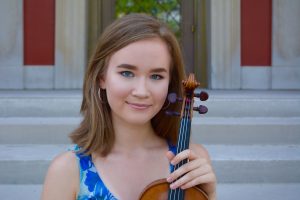 Sixteen-year old violinist, Katia Tesarczyk is a laureate of the 2017 National Sphinx Competition Junior Division, and the 2016 National MTNA Competition Junior Division. She has also won first prizes in the Schubert Club Competition, Thursday Musical Competition, Dakota Valley Symphony Young Artist Competition, and MTNA West Central Division Junior Strings Competition. She was a two-time winner of the Minnesota Sinfonia Concerto Competition in the Junior (2015) and Senior (2017) categories; and three-time winner of the Mary West
Competition for Strings in the Elementary (2012), Intermediate (2016) and Junior (2017) Divisions. She was the recipient of the William and Stephanie Krueger Award in the 2017 LaCrosse Symphony Orchestra's Rising Stars Concerto Competition; and the Edwin Norberg
Award in the 2017 YPSCA School Music Auditions.
She has been a soloist with the Sphinx Symphony Orchestra, the Minnesota Sinfonia, and the Dakota Valley Symphony Orchestra. Katia was a scholarship student at the Bowdoin International Music Festival, and attended Orford Music Festival in Québec, Pienza Music
Festival in Tuscany, and Bravo! String Institute in Minnesota. She has performed in master classes given by Ilya Kaler, Yair Kless, John Gilbert, Henning Kraggerud, Almita Vamos, and Sergiu Schwartz.
Katia began studying violin at the age of 4 with Lucia May. Currently a student of Sally O'Reilly, she attends Central High School in Saint Paul.
Katia plays on a 1870 Paul Bailly violin, generously on loan to her by the Virtu Foundation