2014-15 Season
Sofia Ardalan (October 2014)
Sofia Ardalan is a rising young soprano in great demand. Ms Ardalan's recent appearances include concerts of Lieder and opera arias at the Lotte Lehmann Akademie in Perleberg, Germany, and Rattenburg, Austria, where a reviewer said of her performances "with her beautiful legato and tone, her expansive breath control and commanding stage presence, we will see this American soprano on the world stages before long." In addition to opera, Ms Ardalan was recently heard in a recital of Weill and Ives songs at the Eastman School of Music, Rochester, New York, and has performed numerous recitals of German Lieder in Minnesota. She was a finalist in the Elblandfestspiele International Music Competition in Wittenberge Germany and a semi-finalist in the Gerde Lissner International Voice Competition (Wagner Division) in NYC. Ms. Ardalan studies with Oksana Bryn and Audrey Stottler in Minneapolis, and has trained internationally with Anna Tomowa-Sintow, Klaus Sallmann, Karen Armstrong-Friedrich, and Håkan Hagegård. In addition to singing, Ms Ardalan is an accomplished violinist, pianist and ballroom dancer.
Michael Sutton (November 2014)
Michael Sutton was appointed Concertmaster of the Bloomington Symphony Orchestra in May 2014. His first performance with the Bloomington Symphony will be at Bloomington's SummerFete concert on Thursday, July 3.
Sutton has been a proud member of the Minnesota Orchestra for 16 years. Sutton grew up in Minneapolis, studying at MacPhail Center for Music. He left for Manhattan School of Music where he earned two degrees.
Next, Michael went to Miami Beach to join the New World Symphony. After living abroad for two summers each in Japan and Europe playing in music festivals–and getting New York and paradise out of his system, it was great to come full circle…back to the Twin Cities.
Sutton has been active with causes he believes in; he served on the board of directors of the Greater Twin Cities Youth Symphonies, and the Hamm Clinic for Mental Health in St. Paul. Michael is married to the ever-vivacious Beatrice Blanc, a Suzuki teacher at the MacPhail Center for Music.
Arek Tesarczyk (February 2015)
Cellist Arek Tesarczyk joined the Minnesota Orchestra in 2004 and made his solo debut with the Orchestra in 2006, performing Beethoven's Triple Concerto. He gave the world premiere performances of Rautavaara's Cello Concerto No. 2, Towards the Horizon, under the baton of Osmo Vanska in fall 2010. He has presented a full range of concerto repertoire, including works by Dvorak, Elgar, Saint-Saens, Haydn, Schumann, Tchaikovsky and Goldschmidt, as soloist with the Winnipeg Symphony Orchestra, Silesian Chamber Orchestra, Orchesta Sinfonica de Chile and Concert Artists of Baltimore.
Winner of a 2008 McKnight Fellowship for Performing Musicians, he has participated in many Minnesota Orchestra chamber concerts, performing works by Brahms, Schumann, Schubert, Grieg, Chopin, Messiaen, Dohnanyi, and Shostakovich among others.
In 2006 Arek became a member of the American String Project, a Seattle-based conductorless ensemble made up of 15 solo string players. In addition, he has performed at chamber music festivals in Europe, the U.S. and Canada, and has appeared at the Kennedy Center and Corcoran Gallery in Washington, D.C., and Merkin Hall in New York. For three years he has performed as principal cello and taught at Indiana University's Summer Music Festival. Other performances have taken him to Finland, Switzerland, Germany, England, Scotland and Russia. He has collaborated with Joseph Silverstein, Pamela Frank, Martin Beaver, and Scott St. John, and has recorded Brahms' g minor Piano Quartet with Jon Kimura Parker for the Bravo television network. He has also performed widely with his wife, pianist Claudia Chen, giving recitals in the U.S., Canada, Chile and Poland.
Born in Poland into a family of musicians, Tesarczyk won three consecutive first prizes in the annual Polish National Cello and Chamber Music competitions before graduating with honors from the Karol Szymanowski School of Music in Katowice. Continuing his studies in the U.S., he worked with the late Stephen Kates at the Peabody Conservatory, where he received the Gregor Piatigorsky Memorial Scholarship and earned two artist diplomas: one in cello performance, the other in chamber music as a member of the Peabody String Quartet. Before joining the Minnesota Orchestra he was principal cello of the Winnipeg Symphony for 11 years. While living in Canada he taught at the University of Manitoba in Winnipeg and Brandon University.
Tesarczyk plays a cello crafted in 1997 by an American maker, Christopher Dungey, and uses two French bows, one made by E. A. Ouchard and the other by Victor Fetique. He lives in St. Paul with his wife Claudia Chen and their children Viktor and Katia.
Sara Melissa Aldana (April 2015)
Violinist Sara Melissa Aldana is a native of Bogota, Colombia. She has performed as soloist with the Youth Orchestra of the National University of Colombia and the Baroque Orchestra of the National University of Colombia.
Aldana spent four years as concertmaster of the Youth Orchestra of the National University of Colombia and she toured Spain with the National University of Colombia Orchestra. Aldana has been a member of the Bogota Foundation Symphony Orchestra, the Bogota Youth Chamber Philharmonic Orchestra, and the Clara Schumann Women's Orchestra.
Sara Aldana won scholarships to attend a number of music festivals including the Bravo! Summer String and Keyboard Institute at the University of Minnesota, the Cartagena Music Festival in Colombia, the Sewanee Summer Music Festival at the University of the South, the Santa Catarina Music Festival in Brazil, the Campos do Jordao International Music Festival in Brazil, and the first Meeting of Latin American Suzuki Students in Peru.
In 2010, Aldana won the the Luis Angel Arango Library's Youth Performer National Competition in Colombia.In 2014, she won the "Coda Bow Prize" in the Mary West Solo Competition.
Sara Aldana's primary teacher is Sally O´Reilly as part of the Pre-Conservatory Program at Shattuck-St.Mary's School. She has also worked with Liz Angela Garcia and Marcelino Prats at the National University of Colombia. Aldana has performed in master classes for Lion Spierer, Simone Bernardini, Richard Young, Boris Brovtsyn, Hagai Shajam, Luiz Filipe Coelho, Theodora Geraets, and Ruben Aharonyan.
Previous Season Soloists
Susan Billmeyer (October 2013)
Susan Billmeyer has performed throughout the U.S. as a recitalist and collaborative pianist, and is in constant demand as a chamber musician.  Billmeyer has performed regularly with the Minnesota Orchestra since 2005, and joined them for two European tours in 2006 and 2010; she is heard frequently with the St. Paul Chamber Orchestra as well.  Her commitment to bringing compositions of recent times to a wider audience has led to numerous world premieres and collaborations, including tours and guest performances with ICE (the Intergalactic Contemporary Ensemble), Zeitgeist, Present Music, and the Indiana University New Music Ensemble.  She has appeared on the BIS and Innova labels, most recently recording Finnish composer Kalevi Aho's 2006 Trio for Clarinet, Viola, and Piano, released by BIS in the spring of 2012.  She is also a founding member of the Hot Dish Trio with Leslie Shank, violin, and Karrin Meffert-Nelson, clarinet.
Susan Billmeyer holds degrees from Oberlin Conservatory, Indiana University, and the University of Minnesota.  In addition to her musical training, she holds a degree in East Asian Studies from Oberlin College.  A respected coach and teacher, Dr. Billmeyer's academic positions include a visiting professorship in piano and theory at the University of Richmond and a guest instructorship at the MacPhail Center for the Arts. Currently she lives and teaches in Minneapolis.
Emily Saathoff (April 2014)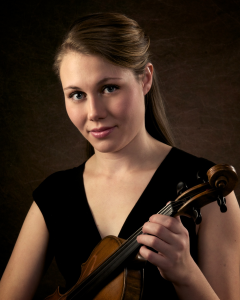 A Twin Cities native, Emily Saathoff began studying piano at the age of five and picked up her first violin a year later. She developed a special passion for orchestral playing while performing with GTCYS and MYS, and while in high school she was chosen to be a part of the Minnesota All State Orchestra for three years. Emily recently received her Bachelor of Music degree from the University of Minnesota, where she studied with Professor Sally O'Reilly. During her undergraduate education, Emily avidly studied and performed solo and chamber music and was able to perform in numerous masterclasses including those given by violinistsYair Kless and Jonathan Magness. Emily frequently performs around the Twin Cities while continuing her studies with Professor O'Reilly.