August 11, 2016 :: Arts in the Park
Anders Peterson, Clarinet
Anders Peterson is a 16-year old clarinetist who will be a junior at Northfield High School in the fall of 2016. He is a member of the Minnesota Youth Symphony's (MYS) top Orchestra under the baton of Manny Laureano. Anders began his career with MYS under Claudette Laureano in 2013. He is a two time MYS solo competition finalist. He was invited to play with the Bloomington Symphony by virtue of his performance there in 2015.
Anders began his solo competitive career in 2016 having auditioned for a number Twin Cities based musical organizations including the Medalist Band in Bloomington, The Dakota Valley Symphony Orchestra in Burnsville, MPR's Minnesota Varsity Competition in St. Paul, Thursday Musical, sponsored by the Schubert Club in Minneapolis and the 59th Annual Young People's Symphony Concert Association (YPSCA) School Music Auditions at Orchestra Hall in Minneapolis.
Anders won the prestigious 59th Annual Young People's School Concert Association Competition in 2016. As the grand prize winner, he'll solo at Orchestra Hall with the Minnesota Orchestra under Associate Conductor Roderick Cox in February of 2017 in multiple concerts. He is the only clarinet soloist to have won the top prize in the history of the YPSCA competition.
He is the co-winner of the 2016 Dakota Valley Symphony Young Artists Competition and performed with the DVS under the direction of Stephen Ramsey at the Ames Center for the Performing Arts. He won top prize in the 2016 Earl C. Benson Concerto Competition and performed with the Medalist Band in concert at the Schneider Theatre in Bloomington under the direction of the University of Minnesota's Dr. Jerry Luckhardt. He'll perform at several outdoor venues with the Medalist Band this summer.
Anders is a Minnesota Public Radio sponsored 2016 Minnesota Varsity Competition "Showcase Round Artist." He made his live radio debut on MPR in May of 2016 at the Fitzgerald Theatre in St. Paul playing Weber's Concertino for Clarinet. He is a woodwinds category scholarship winner in the 2016 Thursday Musical Young Artists Competition.
Anders is an active member of Northfield High School music organizations, including the band, directed by Mary Williams and the orchestra, directed by Paul Ousley. He is a frequent guest soloist with the choirs under the direction of Kyle Eastman. He is also a 2016 Minnesota All-State Orchestra selection. His teacher since grade 5 has been Dr. Jun Qian, formerly of St. Olaf College, and now Associate Professor of Clarinet at Baylor University in Waco, Texas. Anders has performed at multiple venues and colloquia in Minnesota and Texas including Jones Hall on the campus of Baylor University, the Majestic Theatre in Dallas and Boe Chapel at St. Olaf College. He collaborates with Lori Folland and John Jensen of St. Olaf College.  He is the son of Robyn and Glen Peterson from Northfield, MN.
October 9, 2016 :: Experience the Ring
Sofia Ardalan as Gerhilde
Sofia Ardalan is a dynamic young soprano, equally at home in concert, recital and opera. Ms. Ardalan has appeared as guest artist with the Bloomington Symphony Orchestra singing Strauss' Vier letzte Lieder, with the Dakota Valley Symphony and Chorus for Handel's Messiah, and as soprano soloist in Verdi's Requiem with the Minnesota Youth Symphonies and Minnesota Chorale. Upcoming 2016 performances include a recital of Brahms, Sibelius and Strauss songs in Minneapolis.
She has sung concerts and recitals in Germany, Austria and Italy, where a reviewer said of her performances "with her beautiful legato and elegant tone, her expansive breath control and commanding stage presence, this young American soprano belongs on the world stage." An avid recitalist, Ms. Ardalan has presented a recital of Weill and Ives songs in Rochester, NY and has performed numerous Lieder recitals in Minnesota. She was a finalist in the Elblandfestspiele International Music Competition in Wittenberge Germany and a semi-finalist in the Gerda Lissner International Voice Competition (Wagner Division) in New York. Ms. Ardalan studied with the late Oksana Bryn at The MacPhail Center for Music and currently works with Audrey Stottler in Minneapolis, also training at the Lotte Lehmann Akademie in Perleberg, Germany. She coaches with Klaus Sallmann (Berlin) and Thomas Bartsch (MN) and has worked with noted singers Anna Tomowa-Sintow, Mary Mills, Graciela Araya and Håkan Hagegård. In addition to singing, Ms Ardalan is an accomplished violinist, pianist and ballroom dancer.
Lisa Drew as Schwerliete
Lisa Drew, contralto, performs nationally and internationally as soloist and in small ensembles. An active performer in Minneapolis/Saint Paul, Lisa has sung with the ranks of the former Saint Paul Chamber Orchestra's Chorale under the leadership of Dale Warland singing most recently in Handel's Messiah and Beethoven's Ninth Symphony, performed the role of the Priest and in the small ensemble for Lyra Baroque Orchestra's production of Handel's Esther, Consortium Carissimi's Project III – Motets of Giacomo Carissimi,and as contralto soloist in The Minnesota Oratorio Society's concert of Honneger's "King David." This past June, she recorded for the Naxos label with Consortium Carissimi, a recording due out in 2016.
Lisa was delighted to be asked to be a part of the inaugural "Tucson Desert Song Festival" where she performed the alto solos in Rossini's "Petite Messe Solennelle" under the baton of Eric Holtan. Ms. Drew was alto soloist in the "Brahm's Alto Rhapsody" and Horatio Parker's "Hora Novissima" at the Berkshire Choral Festival, William Bolcom's "Songs of Innocence and Songs of Experience," for the American Guild of Organists Annual Convention Finale Concert of the US Premier of Siegfried Matthus' "Te Deum" at The Cathedral of St. Paul, and in Bach's "Mass in B Minor" with VocalEssence and Lyra Baroque Orchestra, as well as a few Messiahs.
Ms. Drew received acclaim as contralto soloist in the United States professional premier of the "Sandstrom High Mass" at Orchestra Hall as well as Honneger's "King David" and she garnered international acclaim as the mezzo-soprano soloist in Steve Heitzeg's "Nobel Symphony" also with  at Orchestra Hall in Minneapolis.
Lisa Drew's opera roles have included Genevieve in The Minnesota Opera's production of "Pelleas and Melisande", The Sorceress in "Glorious Revolution Baroque's production of "Dido & Aeneas," Bradamante in Ex Machina's production of "Alcina", Mrs. Ott in the Berkshire Opera Company's production of "Susannah", and The Fairy Queen in The Gilbert & Sullivan Very Light Opera Company's production of "Iolanthe." Lisa was also a Mermaid in the Walker Art Center's presentation of "Tragedy on the Sea Nymph, An All-Dog Opera." In addition, she has performed in over 75 productions with San Diego Opera Chorus & The Minnesota Opera Chorus.
Lisa's talents also extend to voice-over work and is the featured alto on The Vertical Voice: Vocal Training Method. She has also provided backup vocals on the upcoming debut album for the progressive metal band "Heliosaga."
From 2002-2014, Lisa is proud to have contributed and performed with the internationally acclaimed The Rose Ensemble, recipient of Chorus America's Margaret Hillis Award for Choral Excellence, and two time winner of the 2007 and 2012 Tolosa International Choral Competition, and most recently in Bolivia at the 10th International Baroque and Renaissance Music Festival of Santa Cruz. She is featured on seven of their recordings including: "Fire of the Soul: Choral Virtuosity in 17th-Century Russia & Poland," "Celebremos el Niño: Christmas Delights from the Mexican Baroque,"  "Rosa das Rosas: Cantigas de Santa Maria & Other Spiritual Songs for the Virgin," "N? Mele Hawai'i: A Rediscovery of Hawaiian Vocal Music," "And Glory Shone Around: Early American Carols, Country Dances, Southern Harmony Hymns and Shaker Spiritual Songs," "Il Poverello: Medieval & Renaissance Music for Saint Francis of Assisi," and "A Toast to Prohibition: All-American Songs of Temperance and Temptation."
Lisa Drew is now in her 12th year as the alto soloist at Plymouth Congregational Church in Minneapolis under the direction of Philip Brunelle. Every summer at Plymouth for the past 6 years, Lisa has been part of a vocal quartet reviving some of the lost operetta numbers of the Victorian age with Sonja Thompson on piano.
Lisa Drew lives in the City of Minneapolis with her two cats, Fred & Lilly, enjoys travel and photography, and loves singing in baroque pitch! Lisa is also a talented web developer specializing in WordPress and runs "Websites for a Song" creating affordable websites for small business & artists.
Jerrad Fenske as Siegfried
The beautiful and robust sound of the heroic tenor has blossomed in the voice of Jerrad Fenske who has made a home for himself in the German romantic repertoire. He has sung the roles of the Tambourmajor in Wozzeck, Erik in Der fliegende Holländer, Siegmund inDie Walküre, Sam in Susannah, and Max in Der Freischütz. Earlier in his career he sang the Mozart tenors while the voice matured into the Heldentenor of today. He has performed as a singer, conductor, organist and harpsichordist, while also building a career as a teacher and vocal coach. He lives in Chicago, Il where he is a musical director along with maintaing a private voice studio. www.jerradfenske.com
Debra Gilroy as Grimgerde
Soprano Debra Gilroy brings a vibrant, powerful presence to her performances, from classical and choral music to standards, musical theater, and pop. Her colorful, warm voice has been compared to a rich cognac, creating a musical experience for audiences to savor and enjoy.
An accomplished soloist, Gilroy performs in operas, recitals, chamber ensembles, and orchestral concerts as well as community and company events, weddings, and memorial services. She is a section leader and featured soloist with the Minnesota Chorale and Unitarian Society of Mount Curve, and a regular soloist with Thursday Musical, Opera on Tap, and CORO Vocal Artists.
Gilroy has been a featured soloist in Faure's Requiem, the North American performance of Howard Goodall's Eternal Light, Vivaldi's Gloria, Chilcott's Requiem, and Handel's Messiah, and Mozart's Missa Brevis in F Major. She performed Mascagni's Cavalleria Rusticana, Massenet's Pagliacci, and works by Wagner and Sibelius in master classes led by David Jones in New York.
As soloist and section leader with the Minnesota Chorale, Debra's performances have included Mozart's Die Zauberflüte, Puccini's Tosca and La Boheme, Verdi's La Traviata, and additional works with the Minnesota Orchestra. Highlights from recent seasons include the the role of Lady Billows in Britten's Albert Herring, featured soloist for the Black Hearts Ball and, Mill City Opera's production of Donizetti's La Fille du Régiment in 2015; Buxtehude's Cantata 51 and the world premiere of Gilbert's Poems of Innocence in 2014; Wagner's Wesendonck Lieder, Verdi's Recordare, Mozart's Requiem and additional works by Wagner, Weber, and Strauss in 2013. Gilroy serves on the voice faculty at Hamline University, Minneapolis Community and Technical College, and maintains a private voice studio in Minneapolis. She earned her post-graduate certification in Vocal Pedagogy from the University of Minnesota and holds an MM degree and BA degree in Music. She currently studies with international pedagogue David Jones in New York, and Emma Small in Minneapolis.
Mary Laymon as Hemlwiges
Praised for her artistry and vocal color, Mary Laymon has established herself as a powerful and versatile soprano in the Twin Cities. She excels in difficult repertoire and continues to gain recognition in music circles for her talent, musicality, commitment to character, and beautiful singing.
Mary was featured with The National Opera, The San Francisco Opera, and The Minnesota Opera where she created the role of Justine in the premiere of Libby Larsen's Frankenstein: A Modern Prometheus. Some acclaimed operatic roles have included Cio-Cio-San in Madame Butterfly, Countess Almaviva in The Marriage of Figaro, Nedda in Pagliacci, and The Voice in Poulenc's Le Voix Humane. She is also at home in musical theatre with recent engagements including The Sound of Music as Mother Abbess and The Music Man as Eulalie Mackecknie Shinn.
Ms. Laymon has been teaching people to sing since 1983, and for nearly the last 15 years is proud to be affiliated with MacPhail Center for Music. Additionally, she is the Director of the Children and Youth Choirs at Plymouth Congregational Church in Minneapolis. Mary resides in Golden Valley with her husband Chris, two teenage daughters and two Welsh Corgis.
Colleen Meier as Waltraute
Soprano Colleen Meier is co-founder and co-executive director of Twin Cities Fringe Opera. Colleen completed her Master of Music in Opera Performance at Ball State University where she performed the roles of Donna Elvira in Don Giovanni, Countess Almaviva in Le Nozze di Figaro, and Cleopatra in Handel's Giulio Cesare. Other favorite roles include the Witch in Hänsel und Gretel, title roles in Strauss' Ariadne auf Naxos and Puccini's Suor Angelica, and the First Lady in Die Zauberflöte.  Colleen has performed for the Richard Wagner Society of the Upper Midwest, Thursday Musical, and Theatre in the Round, among others. She is a two-time recipient of the Encouragement Award for the Minnesota district at the Metropolitan Opera National Council auditions and two-time winner of the MacPhail Concerto and Aria Competition. Colleen is a current student of Audrey Stottler.
Audrey Stottler, Narrator
Born in Minnesota, Ms. Stottler is a graduate (cum laude) of Concordia College in Moorhead, Minnesota.  She was a member of the Paul J. Christiansen Concert Choir, and appeared in several dramatic theater productions: "Lion in Winter" (Eleanor), "Romeo and Juliet" (Nurse), "Little Mary Sunshine" (Ernestine von Liebedich).
Moving to New York City, Ms. Stottler studied voice for over 20 years with David Adams. Her repertoire coaches include: Bill Hicks, Nico Castel, Joan Dorneman, and Jeff Goldberg. Ms. Stottler studied acting at the East Bank School and the Actor's Studio.
She made her European Opera début singing Abigaille in Verdi's "Nabucco," with Maestro Alain Lombard at the Palaise di Congre in Strasbourg, France. Since that production she has reprised the role with the Quebec Opera (Quebec, Canada), Teatro Municipale (Cordoba, Spain), Las Palmas Opera, at the Alfredo Krause Music Center (Las Palmas, Spain), and Atlanta Opera (Atlanta, Georgia).
Ms. Stottler has had the opportunity to have inaugurated two opera houses: Harrison Opera House (Norfolk, Virginia) and The Hong Kong Opera House (Hong Kong, China); in the role that has become her signature role, "Turandot" (Turandot). She has sung this role at the Metropolitan Opera (New York, New York), Staatsoper (Wien, Austria), Teatro Bologna (Bologna, Italy), La Maestranza (Seville, Spain), Teatro Municipale (Santiago, Chile), San Francisco Opera (San Francisco, California), Cincinnati Opera (Cincinnati, Ohio), and also in the Forbidden City of Beijing, China, with Maestro Zubin Mehta, which can be seen in the documentary, "The Turandot Project."
Other roles she has sung with success are Ariadne in "Ariadne auf Naxos," Frau in "Die Frau ohne Schatten," Amelia in "Ballo in Maschera," Aida in "Aida," Odabella in "Attila," Lady Macbeth in "Macbetto," Sieglinde in "Die Walküre," in the United States, Europe, South America, and Asia.
Her concert events include "Requiem" by Verdi, Mahler's "Eighth Symphony," Rossini's "Stabat Mater," and Wagner's "Götterdämmerung." In her adopted country, Denmark, she has sung concertized programs that include Verdi, Strauss, Puccini, and Wagner. The most memorable event, to date, was with the Israel Philharmonic, conducted by Maestro Mehta.
Presently retired from the stage, Ms. Stottler is teaching at her own studio in Minneapolis, Minnesota.
Megan Wagner as Brunnhilda
Ms. Wagner obtained her Master of Music degree from the University of Minnesota where she performed the role of Kostelnicka in Jen?fa. She also performed scenes from Die Walküre as Sieglinde, Die Zauberflöte as 2nd Lady, Der fliegende Holländer as Senta, and Peter Grimes as Ellen Orford. She was guest soloist for the Wagner Society of the Upper Midwest, and traveled to Lichtenberg, Germany to study with Siegfried Jerusalem at the Haus Marteau Internationale Musikbegegnungsstätte.
While a doctoral fellow at the University of Oklahoma, Ms. Wagner performed the roles of Dianna in Iphigènie en Tauride, Bradamante in Alcina, and Arminda in La finta giardiniera. She performed scenes as Donna Anna in Don Giovanni, Vitellia in La clemenza di Tito in Verona, Italy, Elsa in Lohengrin and Irene in Rienzi with the BW Wagner Intensive.
Ms. Wagner has performed the role of Prince Charming in Cendrillon with Garden of Song Opera, performed scenes as Aida in Aida, Nedda in I Pagliacci, Desdemonda in Otello, Marietta in Die tote Stadt, and Lauretta in Gianni Schicchi in Oklahoma, and Elvira in Ernani with the Kenwood Symphony Orchestra in Minnesota.
Concert soloist performances have included Puccini's Messa De Gloria, Schubert's Mass in A Flat, Mass in G, Mass in C Major, Handel's Messiah, Mozart's Requiem, Missa Brevis in C, Missa Brevis in D, Coronation Mass, Regina coeli in C Major, and Kodaly's Missa Solemnis.
Lola Watson as Siegrunes
Lola Watson, Soprano, has sung with success on both national and international stages.  She made her Carnegie Hall debut singing Mozart's Coronation Mass.  Her Violetta, in Verdi's La Traviata, in San Francisco, Juliette, in Gounod's Romeo et Juliette, with the New Jersey State Repertory Opera, and Baby Doe, in Moore's The Ballad of Baby Doe, are a few of Ms. Watson's most successful roles.  The role of Rossane in Handel's Alessandro, Ms. Watson's European debut, with Maestro Mieczyslaw Nowakowski and the Sinfonia Varsovia in Warsaw, Poland, can be heard on live recording released by the Schwann-Koch label.  Ms. Watson was most recently heard at Orchestra Hall last November with Conductor Courtney Lewis and the Minnesota Orchestra singing Mother in a fully staged production of Humperdink's Hansel and Gretel, a role she reprised with the Denver Symphony in December 2012.  As a successful soloist, she lends her talents to causes that are dear to her heart; Children's Cancer Research Fund/Dare to Dream Benefit, Seeing Hands, DIFFA and the Alzheimer's Gala, to name just a few. Ms Watson is also an award winning, nationally published interior designer. More at www.lolawatson.com
Karen Wilkerson as Rossweisse
Karen Wilkerson, is active as a professional singer, conductor, and teacher.  For the past 6 years, she performed and in professional core Ensemble Singers of Vocal Essence, who recently toured Korea and China. In this ensemble, she performed in over 30 professional concerts, operas, including Prairie Home Companion, the opera Paul Bunyon, and a concert tour of England.
She sang and recorded for four years with the Dale Warland Singers and has performed in over 14 productions with the Minnesota Opera.  Wilkerson is an active recitalist and oratorio soloist, most recently as a soloist for the Mozart Requiem in 2014 with the St. Olaf Chapel Singers, and St. Olaf Orchestra, and as a featured soloist this past fall with St. Olaf Cantorei, in their fall concert.
She currently is on the Music Faculty of  St. Olaf College, Northfield MN, where she has a vibrant, full-time voice studio. Wilkerson is also in her 23rd year as director of music at St. Michael's Lutheran Church, in Roseville, MN.
Wilkerson holds degrees in Music from California State University, Northridge, and Westminster Choir College, Princeton New Jersey.
Amy Wolf as Ortlinde
Amy Wolf received her Bachelor of Music degree in vocal performance from the University of Minnesota. She has received awards for her singing from the Schubert Club, National Association of Teachers of Singing, The Thursday Musicale, SAI Competition and the Phi-Beta Competition. She has appeared as an ensemble artist with Minnesota Opera and as an Apprentice Artist with Utah Opera. She has appeared as a featured soloist in Opera Cabaret with Duluth Festival Opera, Opera on the James, Sonomento, CORO, Wayzata Symphony Orchestra, Opera on Tap and Top Hat Theater; as a soprano soloist in Carmina Burana and Beethoven's Mass in C with the Macalester Festival Chorale; Handel's Messiah with the Lynchburg College Choral Union; Faure Requiem, Vaughan Williams Dona Nobis Pacem, Carmina Burana and Handel's Messiah with Sonomento.  Her opera roles include The Second Spirit in The Magic Flute; Sophie in Masterclass; Miss Silberklang in The Impresario; Nella in Gianni Schicchi; Musetta in La Boheme; Belinda in Dido and Aeneas; Valencienne in The Merry Widow; Zerlina in Don Giovanni ; Sorceress in Dido and Aeneas; Donna Elvira in Don Giovanni; and Cendrillon in Cendrillon.
November 20, 2016 :: BSO & Beethoven
Michael Sutton, Violin
Michael Sutton was appointed Concertmaster of the Bloomington Symphony Orchestra in May 2014. His first performance with the Bloomington Symphony was at Bloomington's SummerFete concert that year.
Sutton has been a proud member of the Minnesota Orchestra for 18 years. Sutton grew up in Minneapolis, studying at MacPhail Center for Music. He left for Manhattan School of Music where he earned two degrees.
Next, Michael went to Miami Beach to join the New World Symphony. After living abroad for two summers each in Japan and Europe playing in music festivals–and getting New York and paradise out of his system, it was great to come full circle…back to the Twin Cities.
Sutton has been active with causes he believes in; he served on the board of directors of the Greater Twin Cities Youth Symphonies, and the Hamm Clinic for Mental Health in St. Paul. Michael is married to the ever-vivacious Beatrice Blanc, a Suzuki teacher at the MacPhail Center for Music.
February 19, 2017 :: BSO's Youthful Celebration
Karen Baumgartner, Flute
Karen Baumgartner made her Carnegie Hall debut at age 18 on the National Public Radio show From the Top and was awarded a $10,000 Jack Kent Cooke Young Artist Award on the show. Karen was a finalist in the SVSO Young Artist Competition and twice was a runner-up at Indiana University's Woodwind Concerto Competition. She was a winner of the concerto competition at Eastern Music Festival in 2013 and 2014. Karen has won the Pellerite Orchestral Excerpt Competition, Schubert Club Competition, Thursday Musical Competition, and the Laudie Porter Flute Competition and has been a finalist in the YPSCA Competition and Minnesota Public Radio's Varsity Competition. Karen has also been featured on Minnesota Public Radio numerous times.
Karen has performed in the Schubert Club, Salon se Lève, and Music at Trinity concert series and has performed on Minnesota Public Radio's Varsity Tour Concert. Some of Karen's other activities include soloing with the Century College Orchestra, being recorded by Baby Blue Arts, performing at the Minnesota State Fair, and performing on Thursday Musical's Recital Series. Karen has performed at Orchestra Hall before Minnesota Orchestra concerts and has also performed at Orchestra Hall as a member of the Minnesota Youth Symphonies.
Karen recently graduated with a Bachelors of Music in Flute Performance from Indiana University's Jacob School of Music where she studied with Thomas Robertello. She will be continuing her studies by pursuing a Masters of Music degree from The University of Texas at Austin and will be studying with Marianne Gedigian. Karen has previously studied with Adam Kuenzel and Michele Frisch.
Grant Luhmann, Composer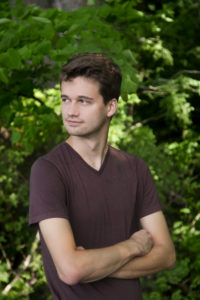 Minnesota-born composer Grant Luhmann's works have earned performances by ensembles such as the Parker String Quartet, violinist Mary Rowell, the Duluth Superior Symphony Orchestra, and many others. A frequent recipient of state and national honors, he earned a 2014 BMI Student Composer Award for his percussion trio The Triumvirate, first prize of Tribeca New Music's 2016 Young Composer Competition Division 2 for his Arborea for violin and fixed electronics, and the Indiana University Dean's Prize [Chamber Category] for Grodek for baritone and sinfonietta.  Other recent accolades include a 2013 ASCAP Foundation Morton Gould Young Composers Award, first place in Indiana University's High School Composition Competition, winner of the Charles B. Olson Young Composers Contest, an honorable mention in the Minnesota Orchestra Composers Institute, and more.  He also was recently featured in the Star Tribune and on Classical Minnesota Public Radio.
In summer of 2015, Grant spent a month studying at Institut de Recherche et Coordination Acoustique/Musique (IRCAM) in Paris. There, he studied electroacoustic music under some of the world's leading composers, acousticians, programmers, and philosophers while creating a new work with the resources of IRCAM. He will return to France this summer to attend the American Conservatory at Fontainebleau, studying with François Paris and Alain Gaussin and creating a new piece in collaboration with the fine arts students.
In addition to composing, Grant studies oboe and English horn with Roger Roe and Linda Strommen at the Jacobs School of Music, performing in the IU New Music Ensemble and frequently premiering new works.  Upcoming commissions include a new work for the IU New Music Ensemble and a flute concerto for flautist Karen Baumgartner and the Bloomington Symphony (MN) under direction of Manny Laureano.
Grant currently attends Indiana University's Jacobs School of Music pursuing a BM in composition with a concentration in oboe performance. His primary teacher is Claude Baker, and he has also studied extensively with Sven-David Sandström, Aaron Travers, David Dzubay, Don Freund, and Libby Larsen.
Music in 3D: #4
Nygel Witherspoon, Cello
Winner of Minnesota String & Orchestra Teachers' Association Mary West Solo Competition
Nygel Witherspoon, age 15, has been studying the cello with his teacher, David Holmes, since he was three years old. He has attended Bravo! String and Keyboard Institute for nine years. He enjoys playing chamber music, and was coached for four years by Bruce Coppock. He has performed in masterclasses with Peter Wiley, Bruce Coppock, Benjamin Zander, Tanya Remenikova, Arek Tesarcyzk and Amit Peled. He performs on a cello generously donated by the Virtu Foundation.